Educated Access to Pain Management
As a global leader in pain management, we are aware that patients are still hugely underserved in this area. Every day, we strive to move closer towards achieving our vision of a world free of pain.
Our mission is to improve lives by making pain management accessible and by seeking new solutions to relieve pain. We are committed to transforming, innovating and shaping this field through our own research, as well as by drawing on external innovation, collaboration and networks.
These efforts include creating awareness for pain as a disease in its own right and ensuring access to pain medicines. To maximise our positive impact, we also focus on innovation in pain management, education about the treatment of pain and the responsible use of opioids.
1in5
or 1.4 billion people worldwide are affected by chronic pain1
21
% of chronic pain patients suffer for more than 20 years2
78
% of chronic pain patients state that their treatment was not as good as they expected3
500
million sick days per year in Europe are due to musculoskeletal pain alone4
60
% of permanent work incapacity in Europe is due to musculoskeletal pain alone5
34
billion euros loss for the European economy due to chronic pain6
Awareness for pain as a disease
Chronic pain is an enormous global health problem that affects around 10 percent of the world's population. In Europe and the US, chronic pain affects around 1 in 5 adults1. In Europe, the cost of chronic pain is estimated to be around USD 300 billion2 per year. Patients who are socio-economically deprived are likely to experience more severe pain.
Grünenthal raises awareness about the impact of pain by supporting a multi-stakeholder platform called the "Societal Impact of Pain". It fosters the development of pain policies on a national level. Around 40 percent of European countries now have a national action plan against pain in place. With our Pain Toolkit, we have established a practical tool that provides patients with handy tips and skills in the form of explanations, infographics and videos about how to manage and prevent pain.
Around 40 million people need palliative care each year – but only 14 percent of them receive it. The WHO estimates that 4 out of 5 people in need of palliative care live in low- and middle-income countries3. We have a longstanding passion for preserving dignity and quality of life at the end stage of people's lives. The Grünenthal Foundation for Palliative Care promotes science and research in palliative care and the care for seriously or terminally ill people in Europe and Latin America.
Education about pain treatment and the responsible use of opioids
We believe that access to appropriate pain treatment is a basic human right – and that responsibly prescribed opioids should be one of the options available. Opioids can provide benefits for patients in pain, but may also carry a risk of inappropriate use including misuse, abuse and diversion, as well as the risk of addiction. That is why it is essential that physicians prescribe opioids after careful consideration of the benefits and risks, and that they evaluate all available treatment options.
At Grünenthal, we have a longstanding tradition of educating healthcare professionals about pain management. In this way, we aim to deepen understanding of patients' needs, and of the risks and benefits of pain medicines. Our Change Pain initiative aims to improve patient outcomes from pain treatment by providing practical tools for pain therapy and by strengthening communication and education. Around 65,000 healthcare professionals have participated in our educational programmes so far.
As a leader in pain management, and as an opioid manufacturer, we are highly committed to ensuring that our employees, customers, patients and partners have a thorough understanding of our stance on the responsible medical use of opioids in pain. We aim to foster a mindset shift along the entire value chain by ensuring that all opioid-related materials contain Grünenthal's statement on responsible use of opioids , which clearly highlights the risks and benefits of this class of medicines. Our employees and commercial partners have been trained and educated about our approach to the responsible medical use of opioids. Our standing strategic committee on responsible opioid usage ensures clear guidance, coherent behaviour, continuous improvement, training and control mechanisms across our entire company.
Grünenthal's Charter on the Responsible Use of Opioids sets out our ongoing commitment to exploring and endorsing measures that minimise the risk of inappropriate and illegitimate use of prescription opioids – while striving to ensure that individual patients with a clear need for opioid-based pain relief are not denied access.
Pain is a huge burden on society and access to adequate pain medicines is a basic human right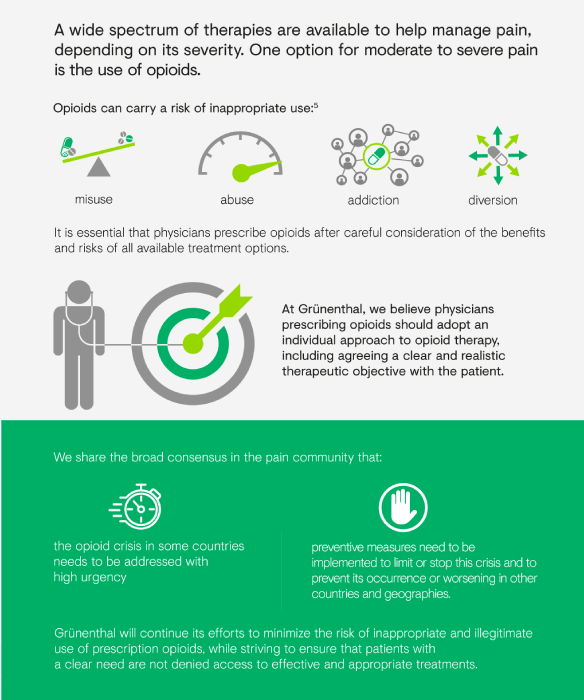 Opioids are an option for the treatment of moderate to severe pain, however, reducing the risk of inappropriate opioid use is vital
An urgent and measured response to the opioid crisis is required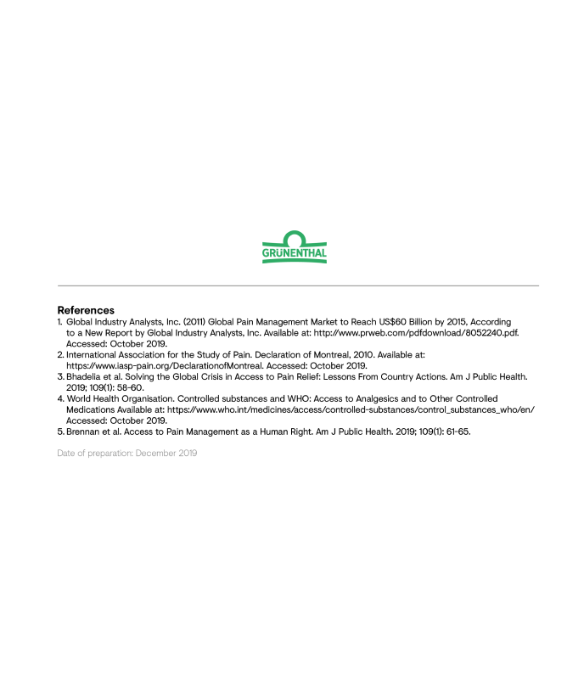 References
Access to non-opioid medicines
At Grünenthal, we believe in comprehensive pain management. While opioids are one option for the treatment of severe pain, it is vital that non-opioid treatments are also available for pain patients. In the US, for instance, 5 million patients are in need of neuropathic pain treatment associated with diabetes. With the US FDA label extension of one of our non-opioid pain medicines for the treatment of neuropathic pain associated with diabetic peripheral neuropathy of the feet, we have made sure that patients get access to this much-needed treatment. In underserved markets, pain patients do not have access to adequate pain treatments in many instances. For example, Grünenthal is serving 7 million patients in Mexico with a non-opioid treatment and our commitment to serving pain patients in Latin America goes back more than 50 years.
Innovate pain management
At Grünenthal, we are driven by our commitment to develop breakthrough pain treatments and ensure adequate management of this disease. Our research and development strategy focuses on delivering solutions for pain management and collaborating with partners to address the huge unmet need in this therapeutic area. We invest about 18 percent of our revenue into R&D, which is well above the industry average4. Our shareholders have been committed to innovation for 75 years now. We have a track record of more than 250 priority patent applications.
Through our funding programmes, such as the EFIC-Grünenthal Grant and the Brain Mind Pain Patient Grant, we are further supporting scientists in carrying out innovative clinical pain research. We encourage patient-centric treatment in order to decrease stigma, and we work together with partners to improve quality of life for people living with pain.
---
1Breivik H, Collett B, Ventafridda V, Cohen R, Gallagher D. Survey of chronic pain in Europe: prevalence, impact on daily life, and treatment. Eur J Pain 2006; 10:287-333.
2 European Pain Federation. Pain Proposal: Improving the Current and Future Management of Chronic Pain. A European Consensus Report. Available at: https://europeanpainfederation.eu/wp-content/uploads/2016/06/pain_proposal.pdf. Accessed: January 2021.
3WHO Palliative Care. Available at: https://www.who.int/health-topics/palliative-care. Accessed: February 2021.
4 Health at a Glance 2019: OECD Indicators. Available at: https://www.oecd-ilibrary.org/social-issues-migration-health/health-at-a-glance-2019_4dd50c09-en. Accessed: March 2021.