Grünenthal's response to the global Covid-19 pandemic
The pharmaceutical industry's response to the Covid-19 outbreak has been marked by a strong spirit of solidarity and by joining forces with governments to drive the development of diagnostics, medicines and vaccines. As a company specialised in pain, our research teams remain focused on developing life-changing pain treatments, while our production teams are working hard to secure a continuous supply of our medicines to patients worldwide.
At Grünenthal, we're incredibly proud of the resilience, solidarity and hard work that have remained constant among us and our partners in 2020. Our joint efforts made it possible to continue to secure an uninterrupted supply of medicines to patients. Listen to Victor Barbosa, Head of Global Operations, and learn more about our passion to deliver products to patients that need them.
At the same time, our management team is constantly focused on making sure our employees stay safe and healthy.
Grünenthal and our employees around the world have stepped up support for healthcare systems, communities and individuals during the Covid-19 outbreak – from fund raising through to donating medicines, masks and medical expertise. Here are some examples of our initiatives.
Grünenthal considers the outbreak and spread of Covid-19 to be a serious situation and fully recognises our responsibilities related to safeguarding the well-being and safety of our employees and their families. All office-based staff have been asked to work remotely, and business travel is not currently permitted. At our sites, we ensure that strict hygiene rules are applied. For more information, see
our media statement
Supporting our communities
Grünenthal has a long track record of supporting projects that have a positive impact on people and communities worldwide. Many of our employees actively engage in local projects and have recently strengthened this engagement to address Covid-19.
Grünenthal has provided protective masks around the world, for instance 25,000 FFP2 masks each in Peru and Ecuador, 25,000 masks in Italy, 5,000 community masks in Germany, 4,000 FFP2 masks in Spain, and nearly 3,000 kits including gloves, masks and disinfectant gel in Mexico. On top of this, Grünenthal is also collaborating with the Spanish Pain Society to donate digital thermometers and pulse oximeters to every pain unit in Spain.
Through Grünenthal foundations, as well as through the engagement of our employees and our affiliates, our company has donated more than 125,000 euros to support local communities in navigating the consequences of the Covid-19 pandemic. Recipients of these donations include a fund that provides protective equipment related to Covid-19 in Portugal, as well as the Hospital Militar Central in Bogota, Colombia, and
Lichtblicke e.V.
, a charity based in Germany that supports children, young people and families who face material, financial or emotional crises.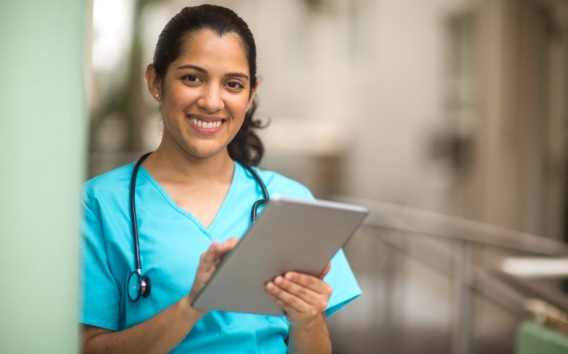 In France, Grünenthal is continuing its sponsorship of the
Coalition Innovation Santé
initiative, which brings together public and private organisations to help patients with chronic illness. In Spain, our employees have donated money to support health improvement projects operated by the Red Cross, as well as to the Spanish Federation of Food Banks. And through our Grünenthal Foundation for Palliative care, students at the University of San Marco in Peru received tablet computers and funding for internet access to help them continue their medical education despite the restrictions that are in place due to the Covid-19 outbreak.
Alongside these donations of materials and cash, our employees have also donated their time. Employees in Norway who have medical training as doctors or nursing staff have been given the option to support the response to Covid-19 by volunteering. And employees in the US are engaging in an increasing range of activities to directly support the unique needs of their local community.
In Spain, our team has created the Human Face of Grünenthal project to support a range of social responsibility activities. Since April, it has offered a 100-percent discount on the purchase of hospital medicines from the company. This offer will run for four months and will relieve pressure on the Spanish health service during this critical period.
Covid-19 has disrupted daily life – but not Grünenthal's supply chain. Our teams are working tirelessly to keep our production activities running. And we are now participating in the #WeWontRest campaign to make sure patients get the medicines they need.
See the full story here
All of us at Grünenthal will continue to do everything we can to protect our employees and their families, and to help patients as well as the communities we operate in.
Stay healthy and safe!