Patient – The people we serve
Having access to appropriate pain treatment is a basic human right. As a leader in pain management, we help to educate healthcare professionals and patients on how to use these medicines responsibly. We also raise awareness and increase accessibility to current treatments while developing new medicines for unmet medical needs.
Overview of measures
To improve patients' outcomes, we are educating health care professionals and thereby improving communication between them and their patients, supporting patients on their journey toward optimal pain management.
Raising awareness of pain as a disease and improving access to pain medicine are two of our key priorities. To integrate our rich and wide engagement at the global and local level, we will be creating one joint Grünenthal Platform for Awareness and Access under a common global strategy. It will provide visibility and aligned commitment, increasing the focus, reach and impact of these activities.
By building data-driven human disease understanding approaches along our R&D value chain we are enhancing our ability to create innovative medicines for patients in need.

Flagship initiative: Education of Patients & Healthcare Professionals
Education in responsible use of pain medicines helps health care professionals and their patients work together toward improved and sustainable outcomes.
To drive this forward
Change Pain Responsibly is a global hub we plan to develop together with health care professionals and medical societies to provide educational resources on how to responsibly use pain medication and how to support pain patients.


We are establishing an Expert Forum to discuss challenges related to the responsible medical use of pain medication.
In addition, our non-branded
Change Pain initiative
aims to improve patient outcomes by improving pain management through adequate research, communication and education.
Around 65,000 healthcare professionals have participated in our educational programmes so far.
Education about pain treatment and the responsible use of opioids
Patients in pain need access to appropriate pain treatment, and we believe that responsibly prescribed opioids should be one of the options available. However, while opioids can provide benefits for patients in pain, they may also carry a risk of inappropriate use, including misuse, abuse and diversion, as well as the risk of addiction. That is why it is essential that physicians prescribe opioids after careful consideration of the benefits and risks, and that they evaluate all available treatment options.
As a leader in pain management and an opioid manufacturer, we are highly committed to ensuring that our employees, customers, patients and partners have a thorough understanding of our stance on the responsible medical use of opioids in pain. We aim to foster a mindset shift along the entire value chain by ensuring that all opioid-related materials contain Grünenthal's statement on responsible use of opioids, which clearly highlights the risks and benefits of this class of medicines.
Within Grünenthal, our standing strategic committee on responsible opioid usage ensures clear guidance, coherent behaviour, continuous improvement, training and control mechanisms. Our
Charter on the Responsible Use of Opioids
sets out our ongoing commitment to exploring and endorsing measures that minimise the risk of inappropriate and illegitimate use of prescription opioids – while striving to ensure that individual patients with a clear need for opioid-based pain relief are not denied access.
Pain is a huge burden on society and access to adequate pain medicines is a basic human right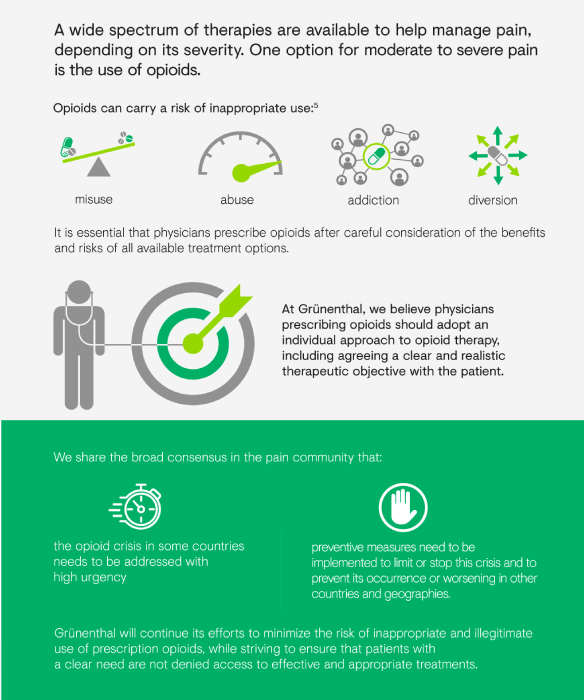 Opioids are an option for the treatment of moderate to severe pain, however, reducing the risk of inappropriate opioid use is vital
An urgent and measured response to the opioid crisis is required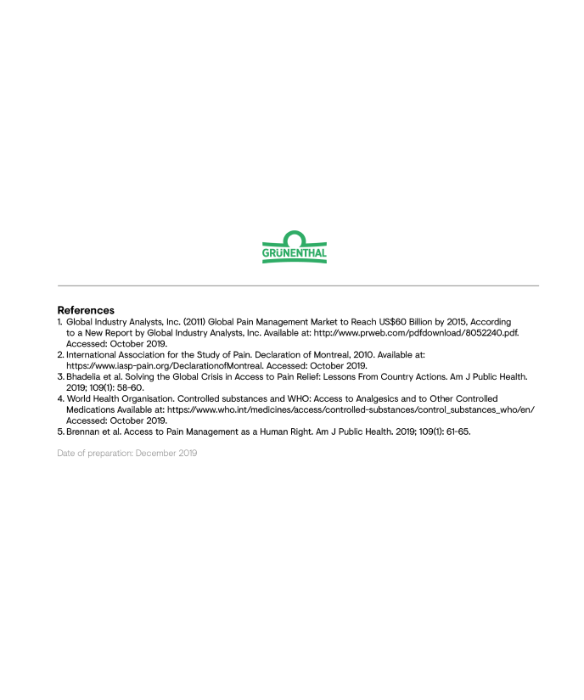 References

Flagship initiative: Global Grünenthal Platform for Awareness & Access
A world free of pain – that is our vision. If this vision is to be realised, societies need to be more aware of pain as a disease and better identify where pain management needs are still unmet.
To help make this happen:
We will create one joint global Grünenthal Platform for non-commercial Awareness and Accessibility initiatives.


It will increase the focus, reach and impact of our global and local Awareness and Accessibility activities by aligning them strategically.


It will serve as a strategic forum for collaboration with external partners and will help us identify where we can best leverage our unique expertise to have a lasting impact on improving pain management.
Our mission is to improve lives by making pain management accessible and by seeking new solutions to relieve pain. We are committed to transforming, innovating and shaping this field through our own research, as well as by drawing on external innovation, collaboration and networks.

These efforts include creating awareness for pain as a disease in its own right and ensuring access to pain medicines. To maximise our positive impact, we also focus on innovation in pain management, education about the treatment of pain and the responsible use of opioids.

The impact of chronic pain
1 out of 5
patients suffer from chronic pain1
21
percent of chronic pain patients in Europe suffer for more than 20 years2
78
percent of chronic pain patients stated that they were not satisfied with the efficiency of the treatment they received3
60
of permanent work incapacity in Europe is related to musculoskeletal pain alone4
560-635
billion US Dollar estimated costs in the United States caused by pain (acute and chronic) every year5
1 Based on data from 34 countries worldwide (Elzahaf RA et al. CMRO 2012).
2 Breivik, H. et al., Survey of chronic pain in Europe: Prevalence, impact on daily life, and treatment, European Journal of Pain 10 (2006) 287–333.
3 Pain Alliance Europe, 2017, Survey on Chronic Pain 2017, Diagnosis, Treatment and Impact of Pain.
4 Bevan, S. et al., Reducing Temporary Work Absence Through Early Intervention: The case of MSDs in the EU, 2013
5 U.S. Department of Health and Human Services (2019, May). Pain Management Best Practices Inter-Agency Task Force Report: Updates, Gaps, Inconsistencies, and Recommendations. Retrieved from U. S. Department of Health and Human Services website: https://www.hhs.gov/ash/advisory-committees/pain/reports/index.html).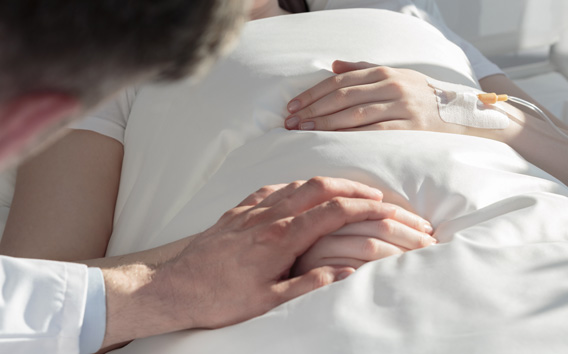 Awareness for pain as a disease
Our aim is to raise awareness about the impact of pain by supporting a multi-stakeholder platform called the "Societal Impact of Pain". It fosters the development of pain policies on a national level. Around 40 percent of European countries now have a national action plan against pain in place. Our Pain Toolkit provides patients with practical tips and explanations about how to manage and prevent pain.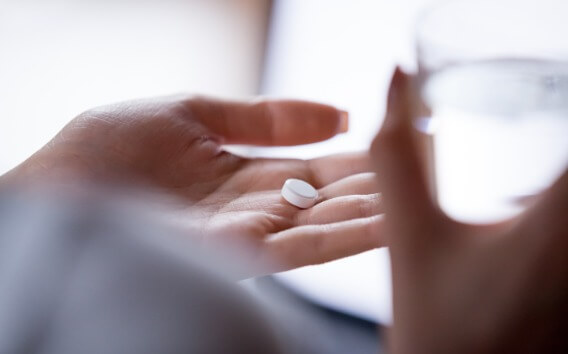 Access to non-opioid medicines
While opioids are one option for the treatment of severe pain, it is vital that non-opioid treatments are also available. With the US FDA label extension of one of our non-opioid pain medicines for the treatment of neuropathic pain associated with diabetic peripheral neuropathy of the feet, we have made sure that patients get access to this much-needed treatment.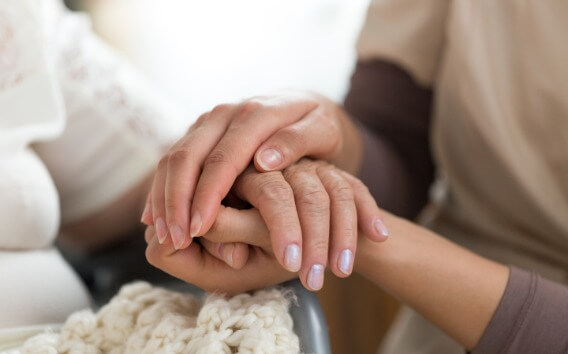 Expanding access to palliative care
We have a longstanding commitment to preserving dignity and quality of life at the end stage of people's lives. The Grünenthal Foundation for Palliative Care was set up in 1998 to promote science and research in this field, and to support the care of people with severe or terminal diseases. The Foundation has facilitated the creation of the Department of Palliative Medicine at the Aachen University Hospital as well as awarding and supporting initiatives related to palliative care and medicine.

In Peru, for example, around 100,000 patients are seeking access to palliative medicine, but there are only around 100 qualified palliative care specialists. For this reason, we created Peru's first Master's Degree in Palliative Care and Pain Management, and provided scholarships to half of the 60 students in the first class.
In addition, together with the Department of Palliative Medicine at the Medical Faculty of RWTH Aachen University, Germany, the Peruvian Society for Palliative Care and the National University of San Marcos, we organised the international Congress on Palliative Care in Lima. It facilitated the exchange of knowledge and skills related to treating people in the final phase of life and raised awareness among the scientific and political communities, as well as across society, about the importance of providing high-quality palliative medicine.

Flagship initiative: Data-driven human disease understanding
Chronic pain is a disease and is one of the most common medical complaints, but despite its prevalence, many individuals still suffer from unrelieved pain and reduced quality of life. There is a huge unmet medical need for improved pain management, but there are gaps in disease understanding including pain targets, biomarkers, and patient phenotypes.
To bridge these gaps:
We are ensuring better use of data-driven understanding of human disease along the R&D value chain.


We are using machine learning based on human data to increase disease understanding and improve the design of clinical trials. Machine learning is also helping us to make better molecules more efficiently and reduce development cycle times.


Through our Discovery Project we are supporting multiparameter optimisation of molecules to produce high quality drug candidates.


We use objective digital measurements of patient's mobility and sleep to improve understanding of treatments in clinical studies and post-approval.


By improving our understanding of the treatment effect of analgesics, we will further support patients on their journey to be pain free.
Innovating in pain management
We need solutions that address the huge unmet needs in pain management. Through our funding programmes, such as the EFIC-Grünenthal Grant, the Brain Mind Pain Patient Grant, IMI PainCare , MOBILISE-D and ESCulab we support scientists in carrying out innovative clinical pain research. We have more than 250 priority patent applications.
Pain often comes with stigma. To decrease this, we need to encourage patient-centric treatment. We are working with partners toward this goal with the aim of improving quality of life for people living with pain.