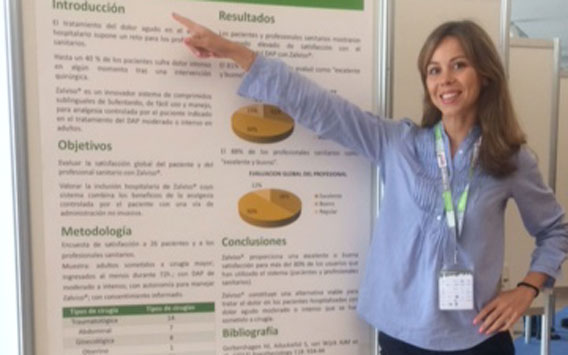 When she was 10 years old, Mónica already knew that she wanted to become a healthcare professional (HCP). Her grandmother was suffering from a cardiovascular disease that significantly limited her quality of life. During everyday activities, the grand-mother had to be very careful to avoid the increased risk of hematoma increasing the need for special care. Back then, Mónica felt a desire to work together with a team to help decrease the burden for her grandmother, as well as for any patients suffering from chronic diseases.
Today, Mónica is 32 years old. She holds a degree in nursing, as well as a degree in journalism, an MBA in the Pharma and Biotech Industries and a Master's degree in Marketing and Communication for the healthcare industry. She is part of the medical department in the Grünenthal Spanish affiliate and works as Medical Science Liaison (MSL). Her work involves interactions with a broad number of stakeholders including doctors, nurses, and medical societies. Her main mission is to use science and educational skills to support better outcomes for patients and better understanding of the disease and patients' unmet needs.
Mónica works in a cross-functional team that includes market access and sales. A key objective of her role is to have a two ways in-depth scientific dialogues with HCPs in pain and gout.
Mónica's week usually starts at 8 o'clock on Monday morning, when she attends appointments with physicians and experts. These meetings mostly take place in hospitals and clinical centers, but are sometimes also held in primary care centers. Her job requires a significant amount of travel because her territory covers a large part of the country.
The key customers in her territory are clinical and scientific experts. She discusses information and data with them, but also engages in activities including clinical sessions, generating real world evidence and supporting unsolicited investigator-initiated trials. Mónica usually has around 4-5 scheduled visits a day that can last 45 minutes or longer.
MSLs generate insights by working in a complementary and strategically aligned way
Using her expertise, Mónica aims to become a trusted partner at eye level to KOLs and other stakeholders. She gathers in-depth knowledge about treatment pathways, innovative therapeutic solutions, and a better understanding of the patient journey and outcomes.
At the end of the week, Mónica is usually at home, planning, and preparing the visits for the upcoming weeks, thinking about the white coat she imagined wearing – and the patients whose lives she impacts every day.