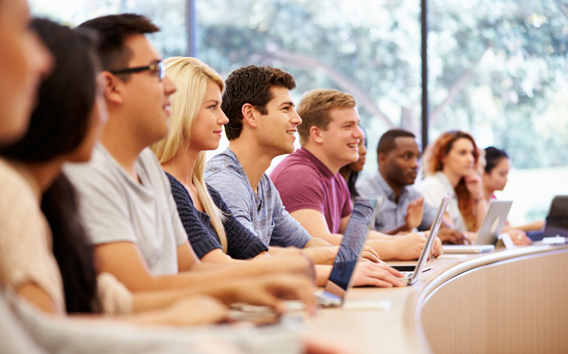 "We're dedicated to supporting top-quality education for the next generation of pharmaceutical professionals. Ultimately, we want to empower them to hit the ground running when they begin their careers."
For many years, the University of Duisburg-Essen has engaged in partnerships with representatives from public authorities and industry – including Grünenthal. These partnerships provide young people studying for an MSc in Pharmaceutical Medicine with practical insights from the world of work and help them shape their ideas about the career path they want to follow after graduation.
The theoretical knowledge students pick up at university is extremely valuable – but it's also important to build practical, work-relevant content into academic study programs. That's why more and more students are looking for opportunities to interact with people from industry and public authorities. These experiences put their knowledge into context and help them shape their ideas about the best possible career path to follow after graduation. As part of this approach, representatives from Grünenthal are offering a module about regulatory affairs within the University of Duisburg-Essen's master's degree program for students in Pharmaceutical Medicine.
Grünenthal has a long tradition of commitment to high-quality education in pharmaceutical subjects – and actively encourages its employees to take an active role in educating the next generation. The company allows employees to engage in teaching activities, which includes creating engaging lectures, organising practical group tasks and meaningful homework for the students, reviewing their work and grading their exams.
There are around 30 students on each the University of Duisburg-Essen's Master of Pharmaceutical Medicine courses. It's an international group of young people with very different backgrounds, but who share a real passion for the subject. They're also incredibly ambitious: around 20 percent of them are studying alongside a job within the pharma industry. The course covers the entire value chain of the pharmaceutical industry and offers the students a chance to engage with lecturers from companies and government bodies to build a strong network before launching their career.
The cooperation between the university and its partners aims to give students insights into some of the exciting career opportunities that the pharmaceutical industry offers. For Grünenthal employees, it's an opportunity to share their knowledge, experience and passion. Together, the partners support the students in getting a well-rounded and work-relevant education – before exploring a challenging and fulfilling career in pharma.