Grünenthal PRO Contract Manufacturing – serving our customers
Our Contract Manufacturing Business, called Grünenthal PRO, offers high-quality products and services for customers worldwide. We are recognised as a trusted partner, and we constantly optimise our capabilities and capacities to expand the range of support that we provide from our five production sites. Together with partners at every stage in our supply chain, we make sure our customers are satisfied in every way. 
We provide a strong service portfolio including controlled drugs handling, regulatory services, production process design, export to 100 countries worldwide and offer special technologies such as hormones, hot melt extrusion or biopharma packaging. 
50%
of our overall production volume is for external customers
In 2021, eight of our existing customers extended their agreements with us. This is confirmation of the trust that we have built among our customers – including small, medium-sized and large companies from the pharma industry throughout Europe and Latin America. This trust is based on our strong record of reliable high quality, competitive costs and outstanding service. 
Alongside extending existing contracts, we have also been able to expand our Contract Manufacturing Business with new services. 2021 saw the first delivery from our Ecuadorian site to a Brazilian customer. This was a true milestone and steppingstone for more to come. Brazil is the biggest market in the region. 
Our biopharma business has substantial potential for further growth. We currently deliver labelled and packaged syringes and vials to approximately 20 countries. At our site in Italy, we operate more than seven assembly and packaging lines for pre-filled syringes, pre-filled pens and vials. Our capabilities also include cold storage capacity and quality testing. We were rated best contract manufacturer on Quality KPIs by one of our biopharma customers.  
To serve our customers even better in the future, we have further expanded our capacities and capabilities. We set up new packaging facilities, including new wallet packaging lines. From 2022 onwards we will also be able to produce and package nasal spray products. 
As a true global partner, we know how to bring products to market at competitive cost, with current deliveries spanning well over 100 countries worldwide.
Visit our website to learn more: https://www.grunenthal-pro.com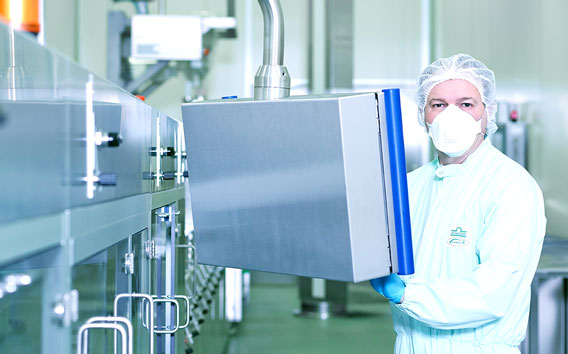 Find out more about Grünenthal PRO – our manufacturing sites and their capabilities:
Find out more