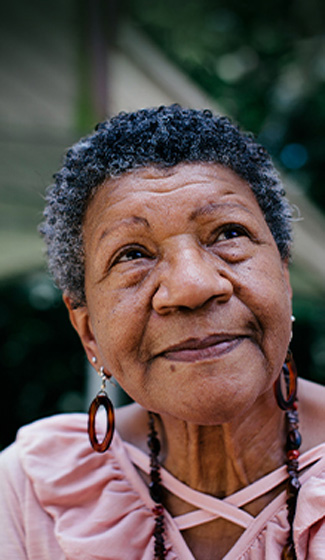 The burden of pain
Life's small moments are incredibly precious. But pain snatches those moments away from billions of people and families every day. It puts restrictions on daily activities and disrupts sleep. It turns joyful events into occasions of stress and worry. And it forces many people to leave the workforce early. Pain is a disease that has a negative impact on individuals, communities and society as a whole. And the global burden of pain is increasingi.
One in every five people worldwide suffers from chronic painii – but 78 percent of those patients are not satisfied with their treatmentiii. It is estimated that up to 90 percent of adults with chronic pain experience a clinically significant degree of insomniaiv, while musculoskeletal pain contributes to 60 percent of permanent work incapacity in Europev. Pain is connected to conditions including anxiety and depressioniv that can make patients feel isolated. But they are not alone. Their stories matter.
Grünenthal at a glance
Our people are united by a shared vision of a World Free of Pain. We believe patients deserve a life shaped by positivity and opportunity – not by suffering or frustration. During the last 50 years, our dedicated pain scientists have created several innovative treatments for people affected by pain. Now, Grünenthal is a global leader in pain research and management. But our work is not finished.
Every day, our experts passionately strive to develop next-generation medicines and make a positive impact on patients' lives. Each individual at our company has their own unique motivations for choosing a career in fighting pain. And we join forces in our active search for life-changing innovations with the power to lift the burden for all patients around the globe.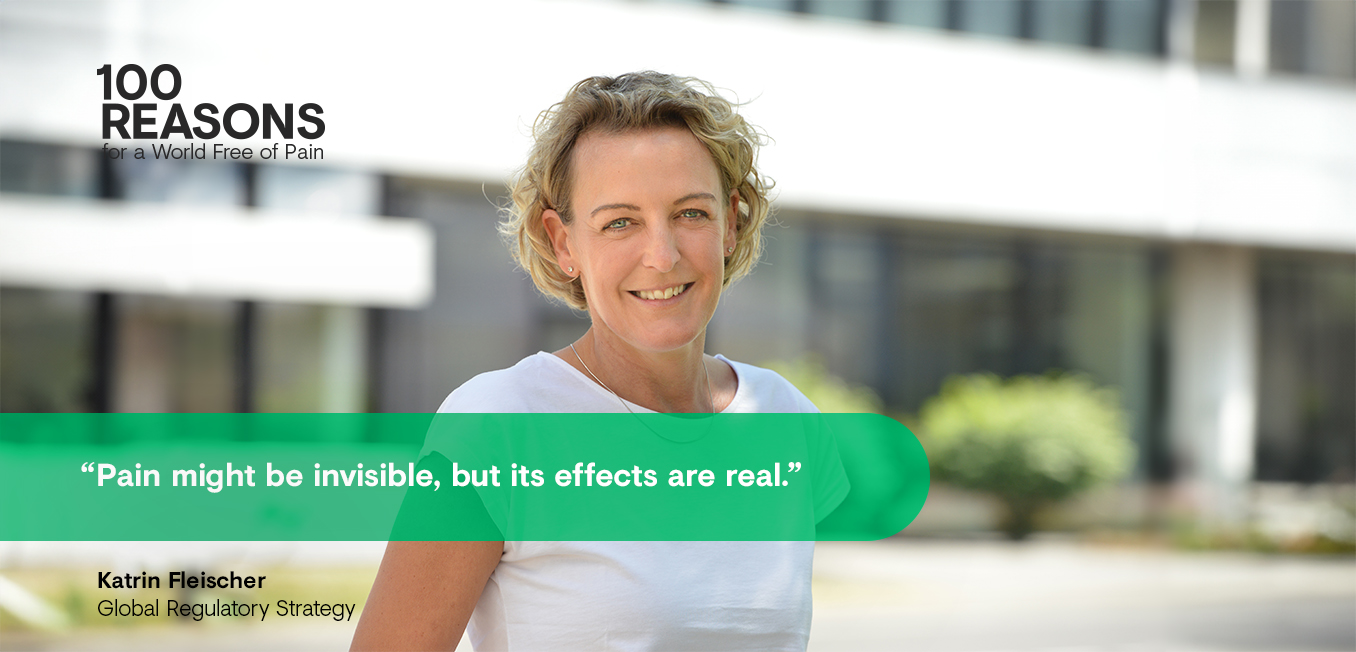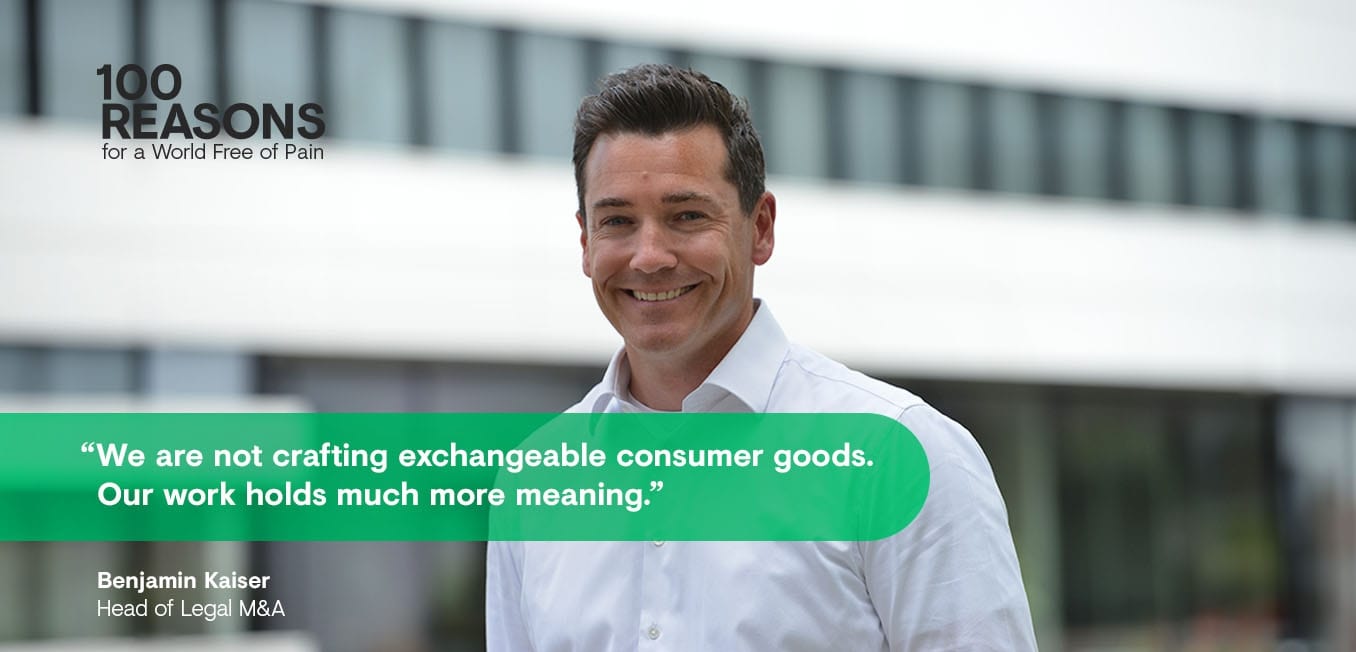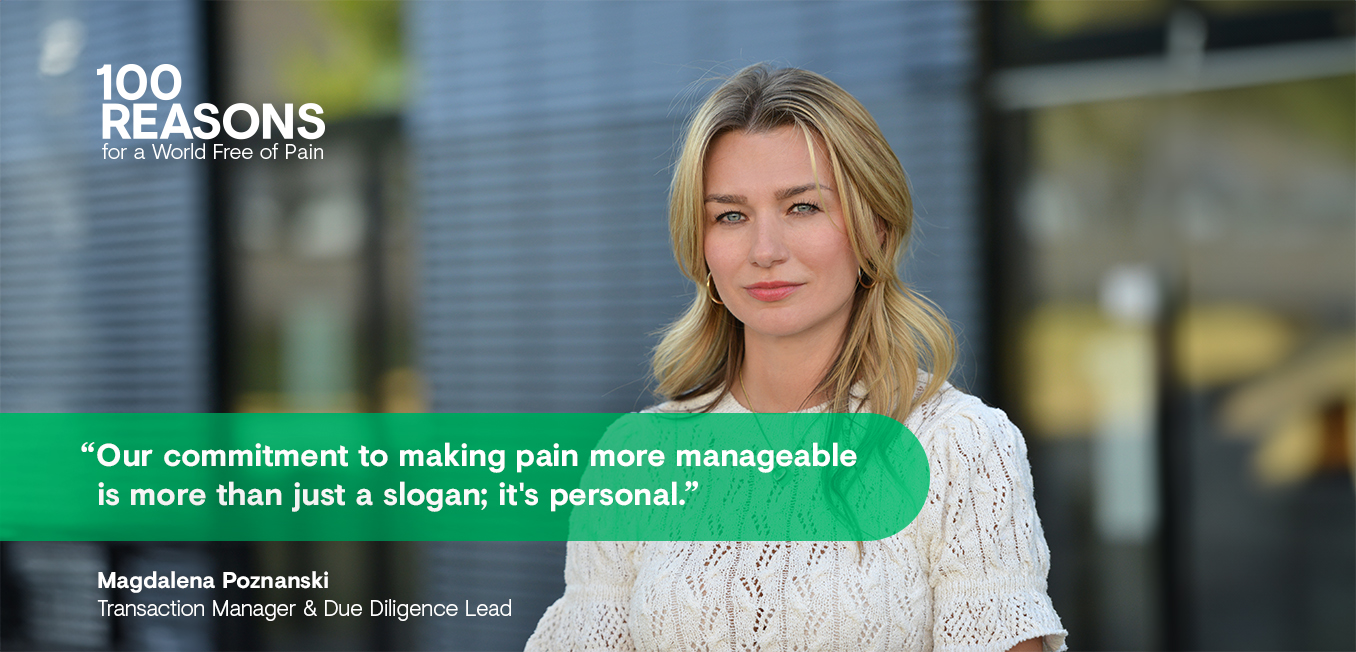 R&D for a world free of pain
The scientists in Grünenthal's state-of-the-art laboratories are constantly gaining a deeper understanding of the specific processes that cause pain in the body. Using our specialised expertise in this field, we seek to build on our company's long tradition as a global leader in pain management – and bring to life our vision of a world free of pain.
To accelerate this push for progress, our researchers collaborate with partners worldwide to advance our pipeline of potential treatments. Our Boston Innovation Hub is a centre of excellence for pain research that connects Grünenthal with the scientific community within this innovation hotspot and beyond. This includes exploring additional modalities such as antibodies, peptide antagonists and genetic medicine approaches. Our R&D strategy focuses on identifying novel targets, engineering optimised clinical candidates, and rapidly progressing them to proof of concept and launch. At all times, we aim to find new therapies that address the unmet medical needs of patients.
Meet some of our researchers and read how they contribute to our journey towards a world free of pain
i Mills SE. British Journal of Anaesthesia, 2019;123 (2): e273ee283.
ii Treede RD, et al. Pain 2015 Jun;156(6):1003-1007.
iii Pain Alliance Europe, 2017, Survey on Chronic Pain 2017, Diagnosis, Treatment and Impact of Pain.
iv Nijs J, et al. PMR 2020 410-419.
v Bevan, S. et al., Reducing Temporary Work Absence Through Early Intervention: The case of MSDs in the EU, 2013.
vi Dueñas M, et al. J Pain Res. 2016;9:457–67.