Explore our recent stories to see what drives us
29 April 2021
How we are building a better future for palliative care in Latin America

When it comes to palliative care, there is still plenty of room for improvement. At Grünenthal, we recognise this need – in Latin America, for example. That is why we are supporting education for the professionals of tomorrow in Peru.
Ever since Grünenthal was founded, the Wirtz family has always felt deeply connected to Latin America and its people. Grünenthal's activities in the field of palliative care include a strong commitment to building a better future. In 2018, the Grünenthal Foundation for Palliative Medicine funded a new academic chair at the National University of San Marcos (UNMSM) in Lima, Peru. It was named after Michael Wirtz, Chair of the foundation. In addition, a two-year master's programme, "Palliative Care and Pain Management", was created at the university to enable specialised healthcare professionals to acquire important knowledge – through training with leading figures in this field from around the world and by writing research articles. We are proud to say that the first 48 students will graduate from this master's programme this summer.
Luis Enrique Podesta Gavilano, Dean of the Faculty of Medicine of UNMSM, provides insights into the new master's programme.
1. Luis, why are you so passionate about palliative care?
I feel passionate about palliative care because it improves quality of life for patients – and also for their families. I believe this is a very important aspect because it involves both the professional and human perspective. Proper management of palliative care can also reduce costs, which is something we should consider, particularly in developing countries like Peru.
2. Can you give a short overview of palliative care in Peru and Latin America? Where do you feel the greatest need for action?
In 2018, Peru introduced the Palliative Care Act for cancer and non-cancer patients. However, the regulation that governs this act still has not been approved. In 2019, a resolution was introduced in the Ministry of Health to develop a National Palliative Care Plan. However, this project also has not been completed yet.
The UNMSM introduced the master's degree programme in Palliative Care and Pain Management in 2018 with the aim of reflecting the country's needs. This course was approved by the National Superintendence of Higher University Education (SUNEDU) in 2019, and it started in the middle of that year.
We now have support from the Grünenthal Foundation for Palliative Medicine, which provided documentation and research papers, and also signed an agreement to award a full scholarship to the 30 outstanding students (out of a total of 60). The first class will complete their studies by next July.
This master's degree helps to train more professionals. It also deepens research work related to this topic, which was quite limited until now.
There have been great advances and more education programmes about palliative care in Latin America, especially in Argentina, Brazil, Chile and Colombia. This master's degree in Peru enables us to strengthen our contribution to this field.
Previously, palliative care was provided by healthcare professionals who were trained in other countries like Spain. These people promoted work in healthcare centres such as in the Peruvian Air Force, the Social Security of Peru (EsSalud), and the Ministry of Health. However, they were not regulated by law and we did not have a master's degree programme.
3. Which new perspectives does this new master's degree open up?
First, we will have HCP's who have comprehensive training in professional, human, ethical and moral considerations. In addition, these physicians will be able to create palliative care units in the institutions where they work, which will have a further impact on improving patients' quality of life. From a research point of view, we will generate important insights that will be useful for Peru and that will serve as reference for other countries.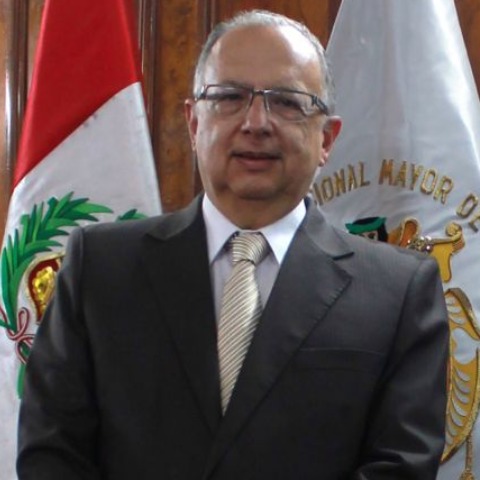 "The master's degree in Palliative Care and Pain Management helps to train more professionals and deepens the research in the field."
4. What is the specific content of this master's course?
The master's degree covers four semesters that include paediatric and geriatric palliative care, morphophysiology of pain, ethical aspects, research aspects, public health, legal concepts, management of palliative care, teaching, and research.
The first three semesters aim to deepen knowledge and research, and the students each present a research project related to their workplace. In the fourth semester, the research project is adapted into a paper that can be published in an indexed journal.
Most of the professionals who applied to this programme are specialised in paediatrics, anaesthesiology, oncology or geriatrics. The content of the master's degree enables them to expand and add to their knowledge.
5. The first candidates will graduate this summer. What feedback have you received so far?
We conducted a feedback survey and the results have been very pleasing. The level of satisfaction among students is high. A great deal of effort was put into providing comprehensive education in this master's degree programme. It was initially set up as a face-to-face training format, but most classes have been virtual because of the Covid-19 pandemic.
This has opened a window of opportunity for us to give priority to the master's degree. In the first phase of the pandemic, the Grünenthal Foundation for Palliative Medicine supported us in setting up one-day talks with professionals from other countries. Even after the pandemic, we will maintain these virtual formats.
6. What guiding principle would you like to shape the work of tomorrow's palliative care practitioners?
The best advice I can offer is to focus on people. A person is not just one more case. In palliative care, we care for critically ill patients and their families. This is something that a healthcare professional should keep in mind and that we have emphasised often during this master's programme.
Today, we are working to continue the master's degree in Palliative Care and Pain Management for physicians – and we are also developing a second specialisation programme for nursing and nutrition professionals.
In addition, we have submitted a proposal to prepare a Diploma in Palliative Care. This is because we understand that all healthcare professionals working in this field are interested – not just physicians.
As a Faculty of Medicine, we have five professional schools: Medicine, Obstetrics, Nutrition, Nursing, and Medical Technology. We are working to gradually integrate all of the healthcare professionals into this field, either with second specialisation programmes or with diplomas in palliative care.