Explore our recent stories to see what drives us
29 July 2020
Addressing unmet medical needs in Ecuador for nearly five decades

Grünenthal has been active in Ecuador for almost 50 years and is now the country's leading provider of pain medicines. Our company's success story has celebrated many landmark moments – and our local team is aiming to achieve even more in the future.
"We're passionate about understanding patients' needs – and providing access to effective treatments."
Grünenthal's presence in Ecuador has gone from strength to strength since the affiliate was founded in 1973. Our site near the capital city, Quito, now serves as a key production centre for products that are exported across the continent. In 2002, the site obtained the INVIMA international certificate for Good Manufacturing Practice (GMP) and began exporting to Colombia. In 2010, it was awarded the European Medicines Agency certification for GMP, confirming that the site operates in line with high standards for the pharma industry in Europe. And the site was certified in line with ANVISA in 2015, a demanding standard that allows recipients to export products to Brazil. This list of prestigious certifications demonstrates the commitment of Grünenthal's team of almost 330 people in Ecuador, and confirms the quality of our treatments for pain and other conditions.
Patients in Ecuador often face difficulties when seeking effective treatment for pain. It is estimated that 30 percent of patients aged 18 or over who suffer chronic pain do not visit a doctor to seek treatment, while more than 60 percent of pain patients have to change or adjust their treatment in order to find relief. In fact, 10 percent of patients who have been diagnosed with a pain condition do not receive any medical treatment at all. This high unmet medical need can lead to frustration for patients – and for physicians too. 77 percent of doctors report that they are not satisfied with the pain medications that are currently available in Ecuador.1
[1] Encuesta IQVIA Ecuador 2018; Fedelat 2018; Atlas Cuidados Paliativos Latinoamérica 2013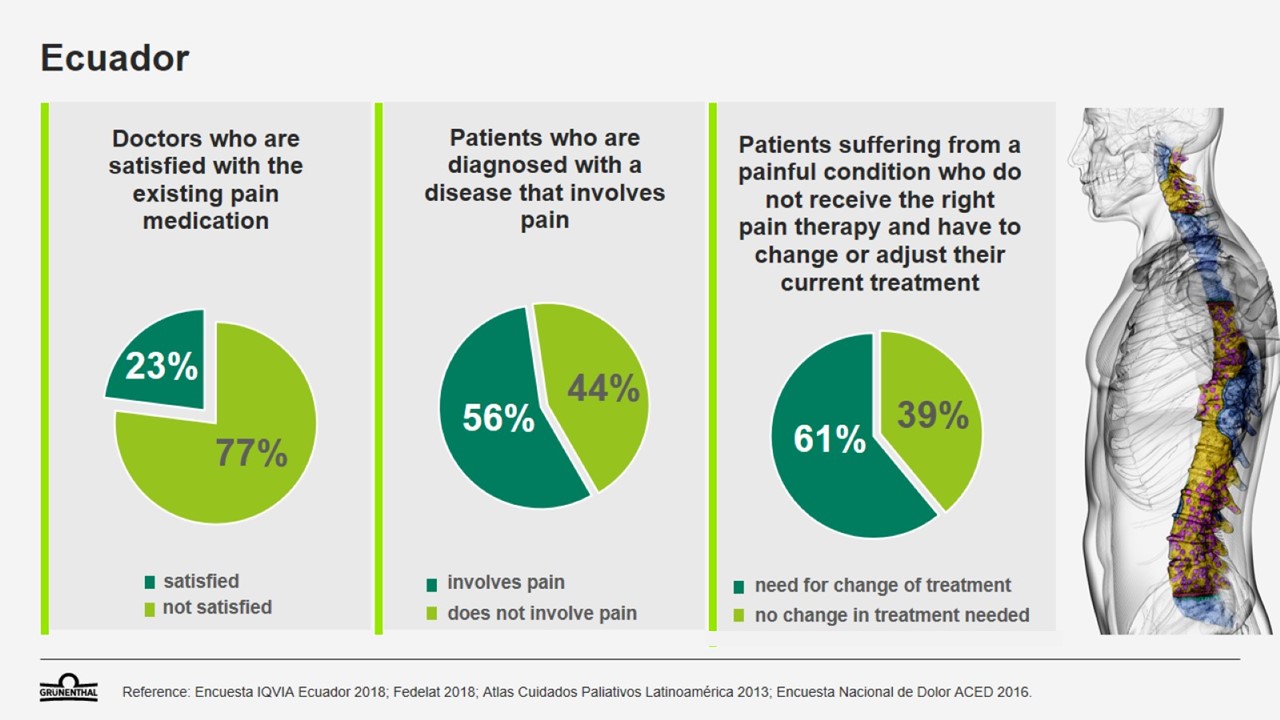 Grünenthal is actively seeking to address these challenges through a range of projects and initiatives. Our Ecuadorian affiliate joined forces with the Universidad de Especialidades Espíritu Santo (UEES), a leading university in the country's largest city, Guayaquil, to develop the first ever modules about pain to be taught to Medicine students. We also provided trainings in bioequivalence studies to ARCSA, the Control and Sanitary Agency of Ecuador. And with our portfolio of life-changing products, we have now risen to become the country's leading provider of pain medications. Moving forward, Grünenthal is aiming to continue the impressive track record of achievement in Ecuador – and to offer a better quality of life to patients across the country.
The perspective of Ecuador site manager Ana María Lazo: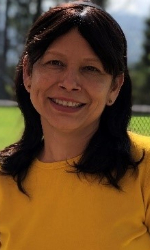 "At our Quito site, our people make a real difference. We are optimistic and enterprising – and we join forces with our shared passion, commitment to efficiency and patient-centric approach"
The following four topics play a key role in ensuring safety and performance at our site:
Quality:
We have received Good Manufacturing Practice certifications that very few other sites in Latin America have achieved. In this way, we are able to offer medicines that have been manufactured in line with high quality standards that are fully comparable with the European market.
Service:
Our customers recognise our excellent level of service, and know that they can rely on our medicines to arrive at the right place at the right time.
Cost:
We maintain an entrepreneurial and innovative mindset as we constantly search for new ways of increasing efficiency and cutting costs – to gain a competitive advantage.
Safety and Environment:
We place very high priority on keeping our people safe and avoiding accidents, while protecting the environment around us.
In this way, our site is able to offer medicines that meet high standards for safety and performance – and that meet the requirements of the most demanding markets in the world."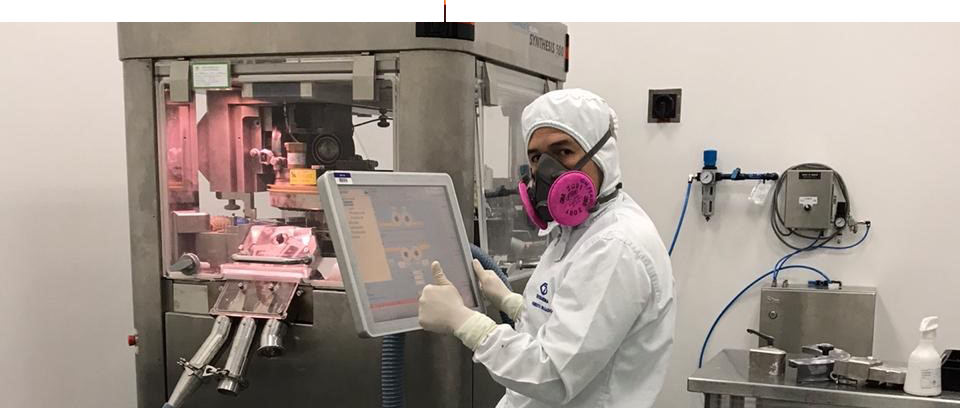 Roberto Delgado, Plant Operator from the Ecuadorian site, setting up our tablet press.


Contact information:
Tecnandina S.A.
Av. Manuel Córdova Galarza Km 6 1/2 Vía a la Mitad del Mundo (Pusuquí)
Quito
Ecuador
E-Mail contact@grunenthal-pro.com
Website: www.grunenthal-pro.com